COVID "As we prepare for future risks, we can enjoy the present." Serena Cho, at right foreground, checks the temperature and proof of vaccination of

COVID
"As we prepare for future risks, we can enjoy the present."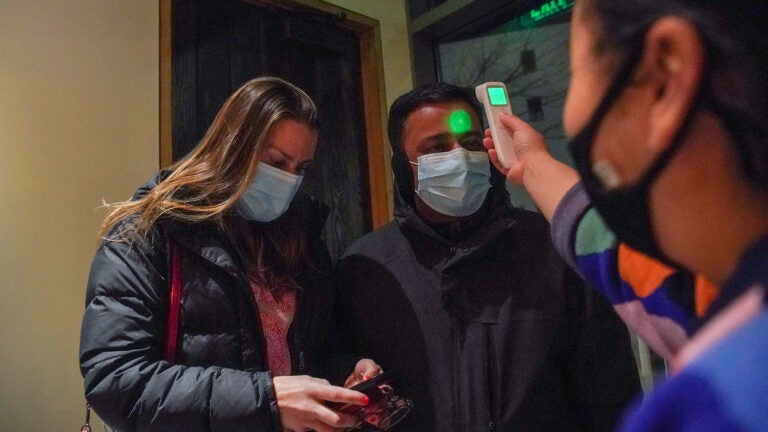 Though he said right now is not the time, Dr. Ashish Jha took to Twitter to explain why he thinks as COVID numbers continue to improve, removing public health mandates is the way to go.
In a Twitter thread Monday, the dean of the Brown University School of Public Health compared the pandemic and public health mandates to weather — saying when it's pouring rain, umbrellas, raincoats, and rain boots are needed. But when the weather calms down, you can leave most of your rain gear at home.
In Jha's metaphor, the rain was a COVID surge, the umbrella represented vaccines, the raincoat signified good masks, and rain boots were staying out of crowded places.
"Right now, the storm is starting to ebb," Jha wrote. "Infections are falling, hospitalizations down. But with infections still high, indoor mask mandates make sense. As do indoor capacity limits."
Jha emphasized that keeping public health mandates in place indefinitely is not effective because people tire of the mandates. He said the key is taking off mandates during periods of low infection but then being ready to bring them back if another surge comes.
"With infections still high (hard rain), I wouldn't end public health measures today," Jha wrote. "But soon, as cases, hospitalizations get low (drizzle), lifting restrictions [is] reasonable. To be clear: the pandemic won't be over, but as we prepare for future risks, we can enjoy the present."
Read Jha's full Twitter thread:
Newsletter Signup
Stay up to date on all the latest news from Boston.com